Severity of Cheerleading Injuries Less than Numbers Imply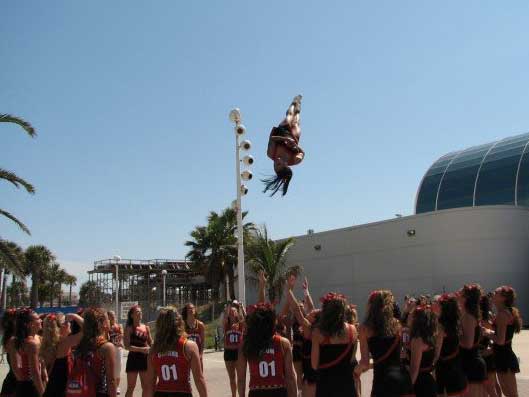 Dec. 17, 2007
The National Center for Catastrophic Sport Injury Research annually collects and issues data pertaining to brain and or spinal cord injuries. The study spans from 1982-2006 and during that time, reports 107 catastrophic injuries in high school and college female athletes. Cheerleading accounted for 56.1 percent of those injuries.
Contrary to the catastrophic injuries study, the Journal of Pediatrics published a study in Jan. 2006 reported a low occurrence of catastrophic injuries. The Center for Injury Research and Policy study conducted from 1990-2002 showed more than 50 percent of injuries treated in U.S. hospitals were diagnosed as minor sprains/strains.
"The total numbers do not tell the story about how many of those visits are for sprained ankles and how many are for what we traditionally consider to be an 'emergency' injury," said Jim Lord executive director of the American Association of Cheerleading Coaches and Administrators.
Former University of Maryland competitive cheerleader Mimi Cuff knows all too well about cheerleading-related injuries. In 2005, Cuff sprained her ankle at practice coming down out of a stunt. She was out for six weeks. "When you do something all the time, it becomes second nature to you and you do it without thinking about it," Cuff said.
Though Cuff's injury was minor, she does not deny serious injuries occur "a lot of girls tear their ACL when they tumble," she said. The anterior cruciate ligament is one of four main ligaments in your knee, according to Dr. Garrett Lynch, M.D. Lynch an orthopedic surgeon specializing in sports medicine and knee and shoulder surgery.
ACL tears are the most common catastrophic injury Lynch treats in cheerleaders. However, he agrees with the study—most cheerleading injuries Lynch treats are minor stains and sprains.
Cheerleading Injury Database Put "Statistics In Perspective"
The American Association of Cheerleading Coaches and Administrators is a non-profit, educational association offering the safety certification program. Lord said, "participation numbers and the fact that cheerleading is a year-round sport should be taken into consideration to determine the rate at which cheerleaders become injured." Lord does not want to negate valid concerns about cheerleading safety, but, "the statistics to be put into perspective."
The Center for Injury Research and Policy completed a new study in June 2007. Data gathered will be used to create a Cheerleading Reporting Information Online database—an Internet injury reporting system. According to a statement issued in 2006, the reporting system will assist researchers in identifying risk factors for injuries as well as determine injury rates.
Partners for Safety
The National Collegiate Athletic Association partners with the American Association of Cheerleading Coaches and form College Cheerleading Safety Initiative.
"It just makes sense to have the leading authority on cheerleading safety partnering with the NCAA on cheerleading issues," Jim Lord, executive of the cheerleading association said. Lord believes the benefits of the partnership allow for a safer cheerleading environment by having one set of standard safety rules across the country.
In July 2005, the athletic association changed their catastrophic injury insurance policy. According to a statement, all cheerleading teams should be directly supervised by a "safety-certified coach or advisor." Further, if coaches are not certified, they will not be covered under the policy.
The athletic association's change in catastrophic injury policy laid the foundation to launch the voluntary College Cheerleading Safety Initiative. According to a Nov. 2006 statement, the initiative required: current safety certification for all coaches, follow the association's safety rules, and a commitment to generate school spirit and support various athletic events. Local schools participating in the initiative include: Georgetown University, George Washington University, Towson University, University of Maryland, and the University of Virginia.